Toronto is obsessed with cherry blossoms. "When are the cherry blossoms blooming in Toronto?" "How can you see cherry blossoms in Toronto?" "Where are the cherry trees at High Park?" It's as common a springtime sound as the call of robins.
It wasn't always this way. We have had cherry blossoms in Toronto since 1959, when the Japanese ambassador to Canada gifted the city 2000 sakura trees. The majority of these were planted near Grenadier Pond in High Park, which bloom into a canvas of pink and white for about one week in April or May, climate depending. Of course, they've long had their enthusiasts, like the nature lovers who call High Park a second home or Japanese-Canadians practising "sakura hanami," or cherry blossom viewing. But, like so many pretty things in nature, it wasn't until the age of Instagram that they became a full-blown obsession.
Cherry Blossoms in Toronto: A spring tradition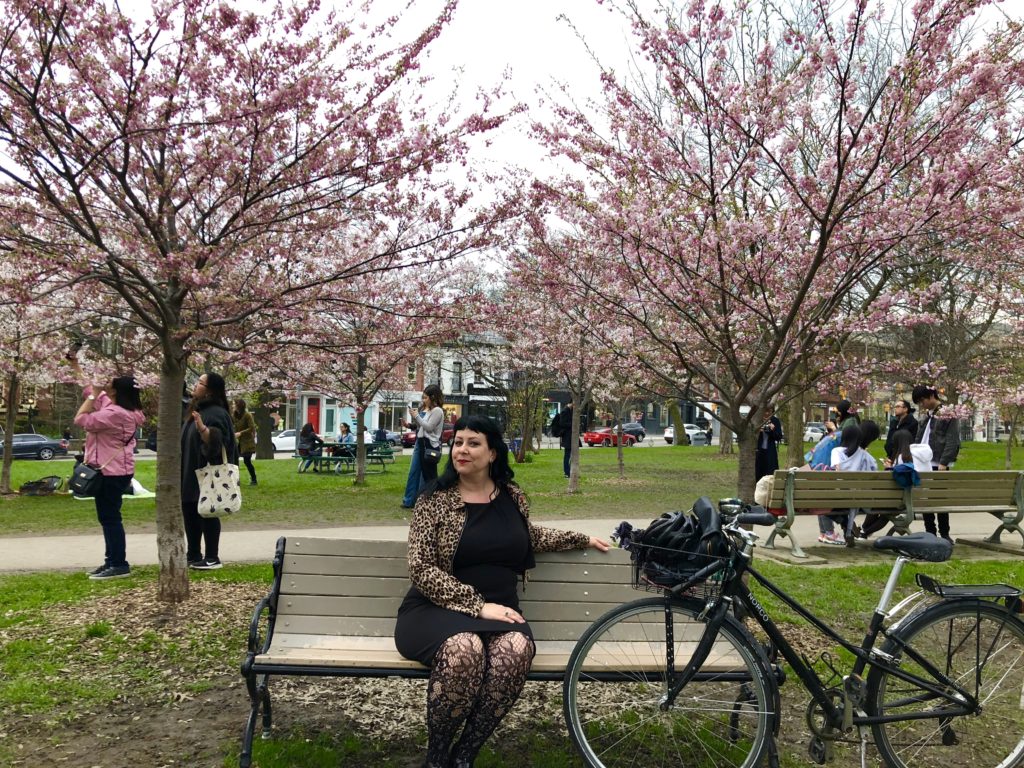 I must admit, I lived here for many years before I paid attention to the annual bloom. But once I did, it became a spring tradition to visit the sakura trees in High Park. April is generally a dreary month in Toronto. Weather is unpredictable. There's a lack of festivals or other special events. The cherry blossoms give us something to look forward to. Watching, waiting, reading the Sakura Watch blog, tossing around new words in our mouths… "peak bloom." And then, if all the conditions were right, we had more than just beautiful white and pink flowers to admire. We had a happening.
In the Before Times, the biggest problem with going to see the cherry blossoms in High Park was finding a parking spot. Some friends and I once made the mistake of driving there on a sunny weekend. Car traffic inched along, bumper to bumper, circling and circling and eventually giving up. Sometimes the trees would bloom before the city opened washrooms for the season, leaving thousands desperately seeking a place to pee. It had become a bit of a gong show, but it was worth it.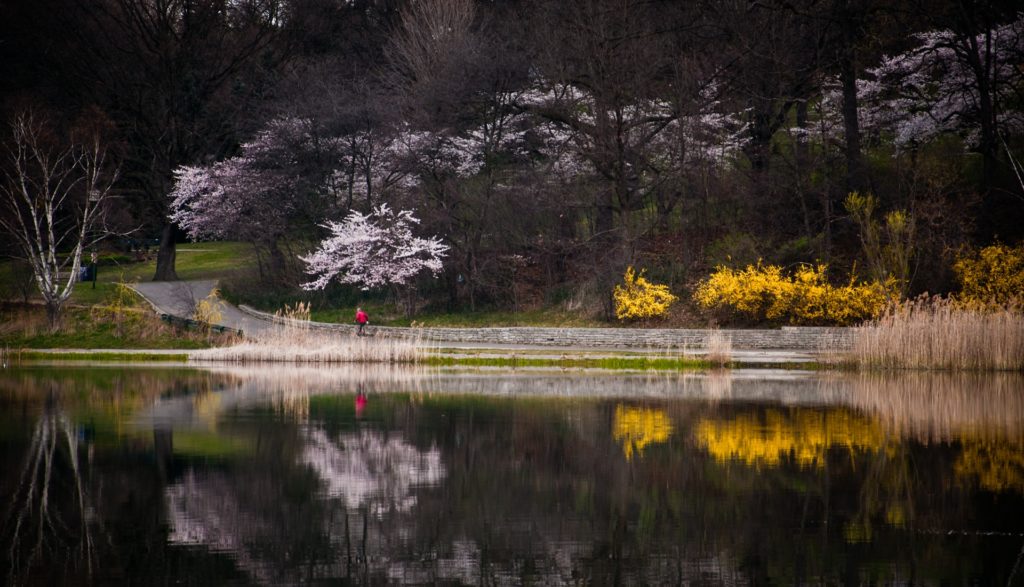 More recently, many downtown people figured out there were also cherry blossoms in Toronto at Trinity Bellwoods Park. That grove was just planted in 2010, and is finally coming into its own. So on the West Side of the city we have had two places to experience the beauty of the sakura trees in bloom. And on a nice day during their peak, you'd be hard pressed to find a moment when someone wasn't sticking their face into the branches, posing for photos, or making out under these trees.
Why are there fences around the cherry trees this year?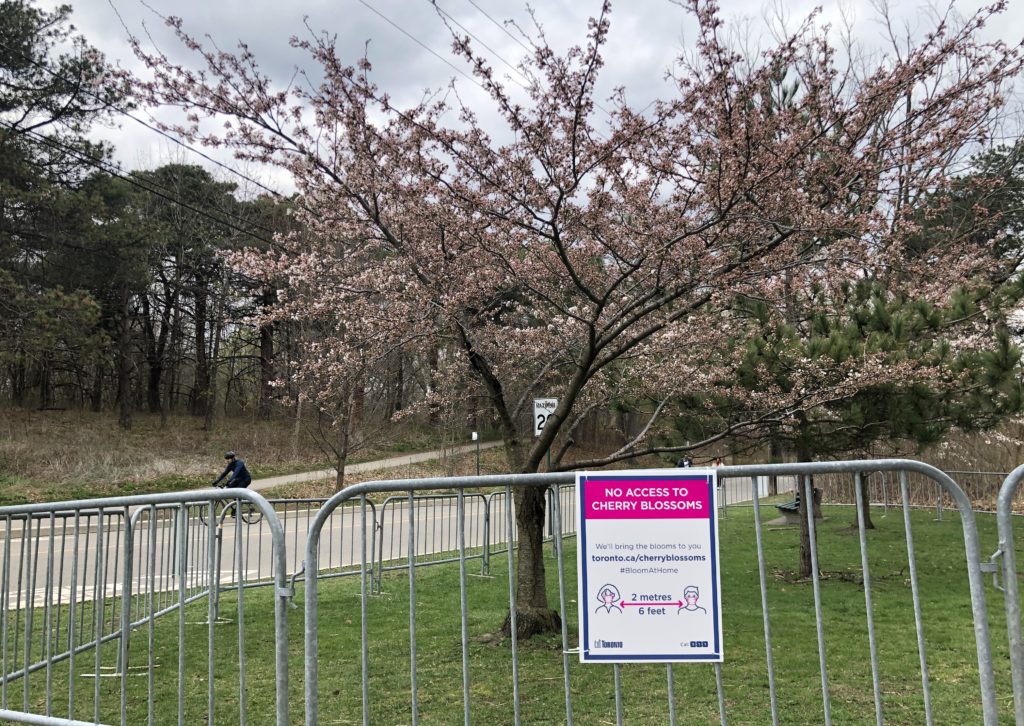 This year though, for the second time, they have put fences around the cherry blossom trees in both High Park and Trinity Bellwoods.
This is for the good cause of preventing large gatherings during a pandemic. But it feels like a kick when we are down. Like we can't have any nice things. Welcoming spring flowers in the outdoors is a simple, small joy after living through a very dark winter. To see barriers and police guarding trees like that, well it seems like we're living in a dystopian sci-fi movie.
But I do not despair. Because the truth is that yes, you still can see cherry blossoms blooming in downtown Toronto in 2021. Here's how.
Sakura in High Park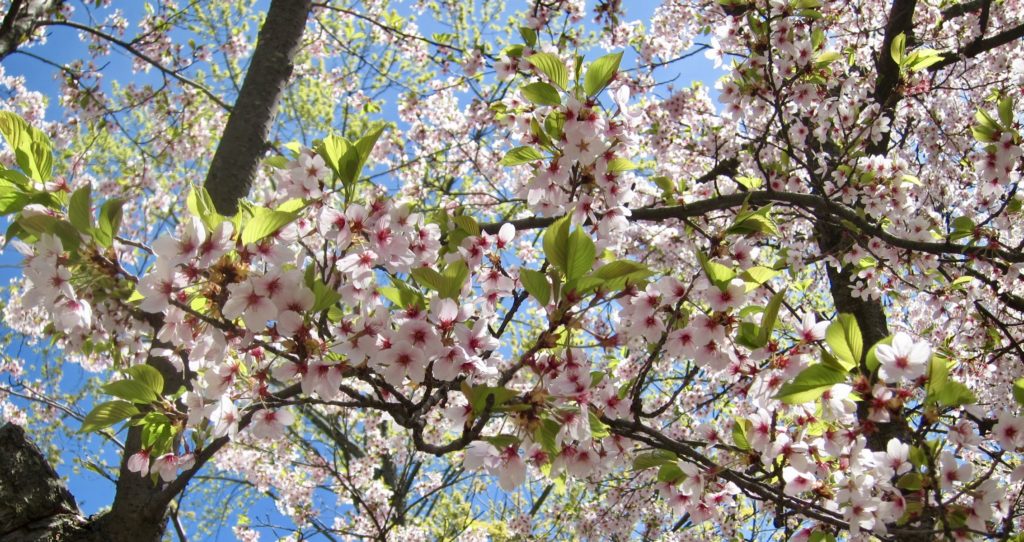 The city is asking you to stay home and watch the High Park cherry blossoms on their 4K BloomCam. So you can certainly do that.
But the park is still open, to foot traffic and cyclists. The largest and most popular grove is pretty much all fenced off and heavily policed so I wouldn't bother. But on the South East side near the children's playground is a second area of trees you can appreciate from a distance. It doesn't make for a very pretty engagement photo with all the fencing, and you can't get right up to it, so if photography is your main motivation, I'd skip High Park this year. But if you want a great walk in a park with cherry blossom bonus, this is still an option.
Trinity Bellwoods
The sakura in Trinity Bellwoods are unfortunately located right near where anti-maskers have been protesting most weekends lately so fuck that noise and give this park a hard pass in 2021.
Queen's Park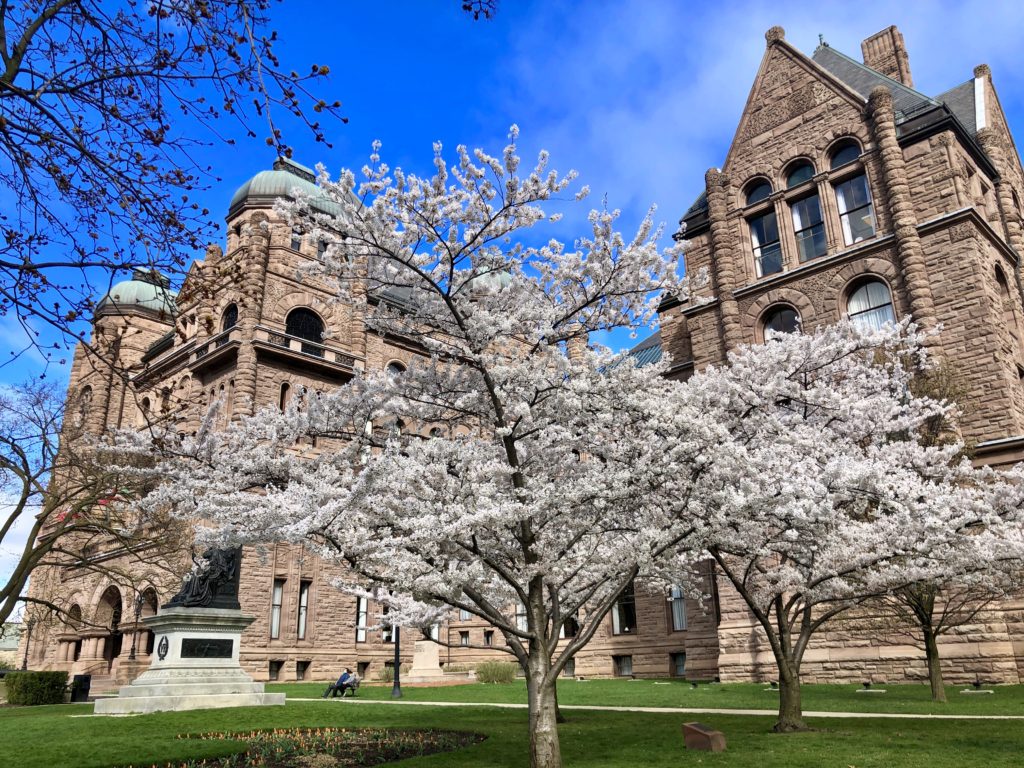 In front of our provincial legislature buildings, three sakura trees were planted in 2005 as part of the Sakura Project, an ongoing friendship initiative between Japan and Ontario. Three doesn't sound like a lot, but they are big and bountiful, with delicate white flowers. When I visited this week, I found them in peak bloom, and just one couple "appreciating" them.
Robarts Library at U of T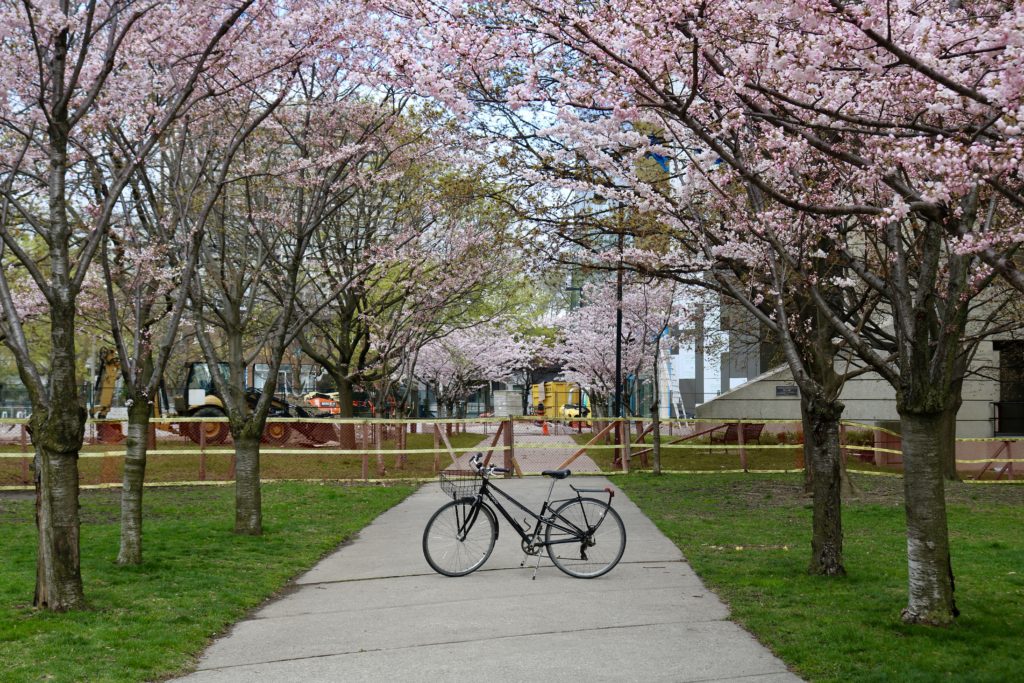 A friend of mine tipped me off about these trees on the University of Toronto campus, which were also part of the Sakura Project to bring cherry blossoms in Toronto. Students already know that a lot of them are trapped behind construction fences right now. But there's still a lovely canopy for a short wander, and a decent place for photos. Or step back across the street and admire the whole scene, including the library itself, a unique architectural gem and one of the best examples of Brutalist design in the city.
Centre Island
The Toronto Islands are an absolute gem, whether you live here or are just passing through. Few visit in spring, so you can have the sakura trees almost to yourself. Check ferry times and buy your ticket in advance here.

Your Own Neighbourhood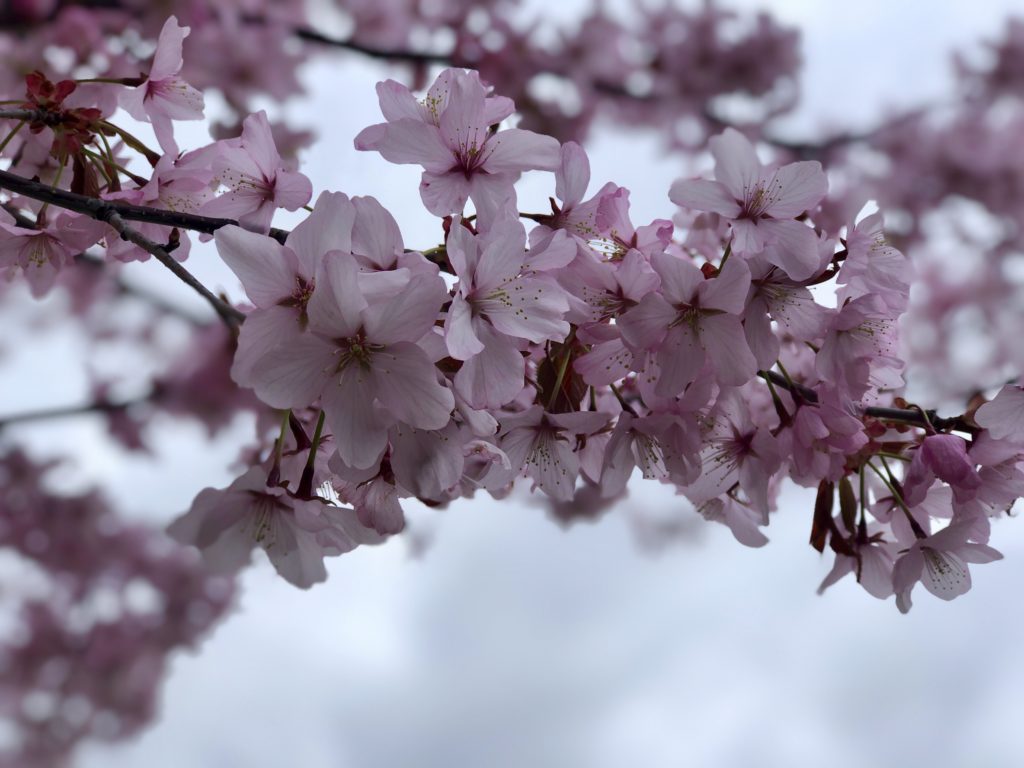 I titled this travel blog "lessons learned while seeing the world," because travel teaches you things that you can then put to use at home.
Like, when something is too popular and crowded for your liking, you can probably find something equally marvellous if less famous just a few steps away. You can jostle your way in front of the Mona Lisa, or you can turn around and admire other wonders of Renaissance art on display in the same room. In cities around the world, pedestrian boulevards teem with throngs, but turn off onto any side street and you will find way better food for half the price.
So if you're searching for cherry blossoms in Toronto, take a good look closer to home. Especially if you live near Centennial Park or Broadacres Park in nearby Etobicoke or Mississauga's Kariya Park, which don't get nearly the media attention as High Park but have equally impressive groves. There's no reason to fight downtown traffic.
You don't need to treat nature like a trendy restaurant, where only one hot spot is worth being seen at.
I also mean just appreciate a tree or two here and there in your own neighbourhood. On my bike ride to High Park, I came across cherry blossom trees in a park 1km from my place, which makes it easier to visit several times and enjoy the various stages of bloom. I bet you can find your own local tree.
Spring in Toronto is also time to appreciate other things in bloom, like the trees of pink magnolias or golden weeping forsythia on my neighbours' front yards. (I'm not a plant expert, but I do love my app PictureThis to identify species.) In fact, despite my fondness for cherry blossoms, they aren't even my favourite flowering trees in the city. Since I've done my sakura hanami for 2021, I'm now on lilac watch. Because it's when that sweet smell permeates the city I truly know spring has arrived.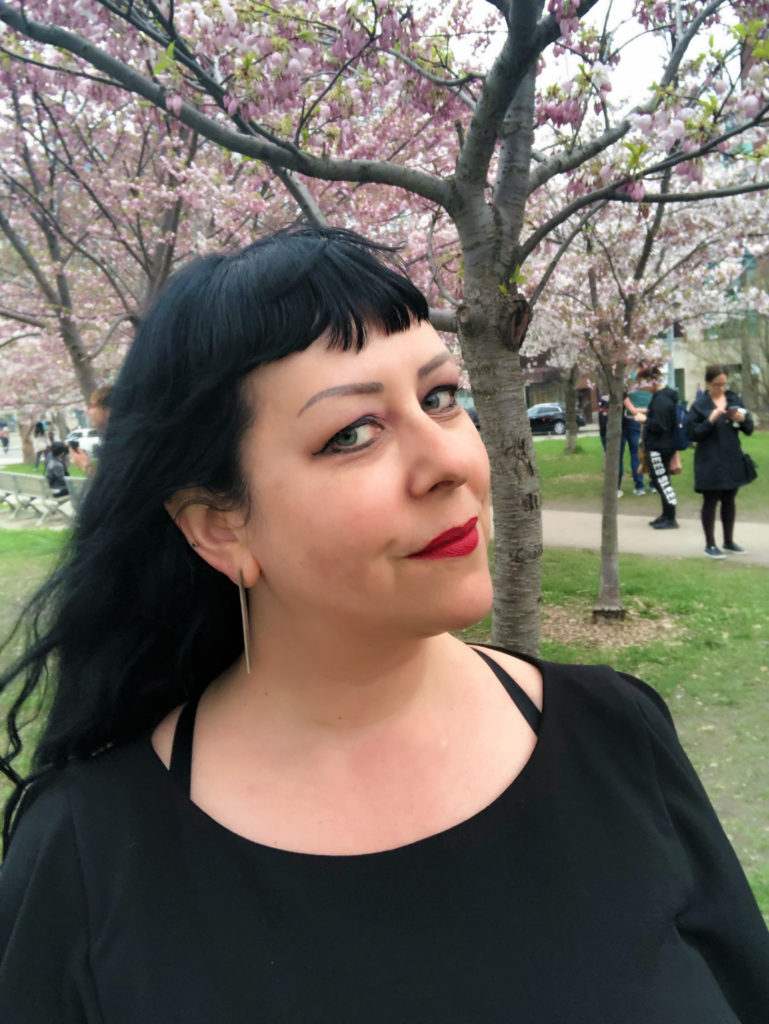 Stay safe and happy sakura hunting…